There are quite a number of businesses offering Cheap bail bonds in Las Vegas, NV. However, eBAIL is one of the most affordable bonding agencies in the area. Posting bail can sometimes be complicated, but eBAIL makes the process much easier.
Las Vegas Bail Bondsman Marc Gabriel
What is a Bail Bond?
Bail bonds are the amounts of money the government sets for a defendant's release from jail before their court date. They can range in amounts, usually between $1,000 to $3,000 for minor offenses.
Las Vegas Traffic Ticket Attorney
How does a Bail Bond in Las Vegas work?
Las Vegas bail bonds work relatively simply. The Las Vegas bail bondsman agrees to take responsibility for paying the whole amount of bail if the defendant who hires them misses their date in court, and charges the defendant a percentage of the bail money to be released from prison. The defendant nor the company have to pay the remainder of the bail if they appear in court at the time expected. If they do not, the Las Vegas bail bondsman may then send a bounty hunter after them to take them to jail.
If you want to avoid a Las Vegas Jail arrest warrant for an unpaid Speeding Ticket Las Vegas contact FixYourTickets.com.
Also, see: North Las Vegas Inmate Search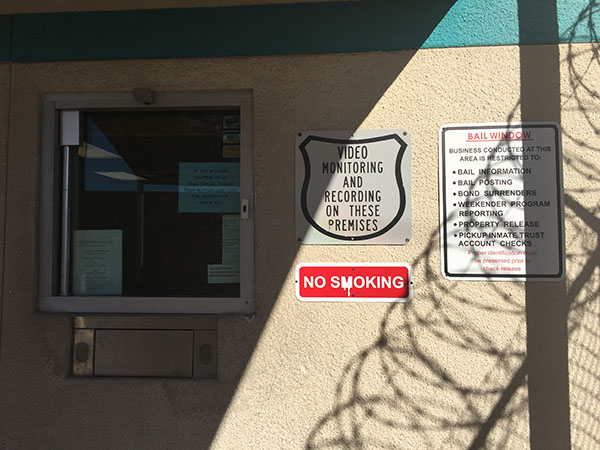 Las Vegas Detention Center Bail Window
Local Jails in the Las Vegas Area
In Las Vegas, the jails include Clark County Detention Center, City of Las Vegas Detention Center, and Henderson Detention Center.
How to get an Inmate out of the local jails
There are three options when you receive bail bonds in Las Vegas: pay the full amount, stay in jail, or hire a Las Vegas Bail Bondsman, and pay 15% of your bail.
How expensive is a Las Vegas, NV Bail Bond?
Las Vegas Bail Bonds vary between cases; however, the standard bail bond for a DUI in the Las Vegas, NV area is about $3,000. If you hire a bondsman, the Las Vegas bail bonds premium set by NV State Law is 15% of your bail amount, which would be $450 for the above Las Vegas DUI Bail bond.
Are there payment options?
Many companies do not offer financing options or very difficult or few options to finance your bond percentage. However, there are companies that will finance the bail percentage you owe, with little money down or for cheap.
Las Vegas Traffic Ticket Lawyer
Cheap bail bonds in Las Vegas Company
Bail bonds in Las Vegas can be paid with a lot of companies, but the trick is to find a business with great service who will work with you and not against you. That's why eBAIL is considered one of the most convenient and respected companies for Las Vegas bail bonds. Their fees are minimal, with the possibility of a cheap upfront premium, and the staff works with you phenomenally. If you ever need to hire a Las Vegas Bail Bondsman, eBAIL is the best choice around.
Las Vegas Bail Bondsman
Also, see: North Las Vegas Jail Inmate Search